This month, studio time has been split between taking photos for my website redesign, continuing the Parrot Tulip Series, and finishing an acrylic painting. Have you ever been nearly finished with a project when doubt crept in and you wondered if the work had been worth the time and energy? How did you handle it? After painting for decades, I'm still learning and loving the challenges of creating art.
Studio Time
The fun continues as I add two more paintings to my Parrot Tulip Series. Below is an Apricot Parrot Tulip which is what I thought I was painting last month. Last month's paintings were of pink and white Parrot Tulips called Green Wave. The Apricot Parrot Tulip has a host of glorious colors distinguishing it. I have to admit over halfway into these paintings I came to a point when I thought, "Oh no, will this never come together? What a waste" followed by, "If you calm your mind and sleep on it, miracles happen."
I used to tell my students this when they were unhappy with their class work. After all this time you would think I'd follow my own advice and not judge a painting before it's finished. Here's what I did to work through those feelings.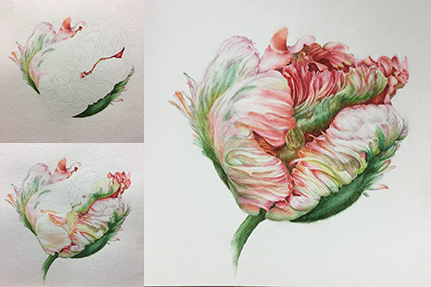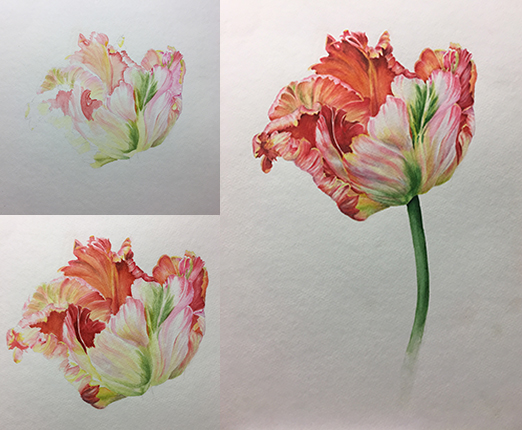 Switching it Up
As a muralist, in order to stay on schedule, I usually finished a project before starting another. That discipline carried into the next phase of my life, fine art. Finishing a piece before beginning the next is not a bad thing. But I noticed some fear around the possibility of not completing a piece I had put off.
A Colorado Landscape painting had been resting on my bookshelf since I set up the studio. The acrylic painting was planned as a sunrise but somehow it seemed boring. While painting a watercolor that morning I glanced at the landscape. In my mind's eye, I saw the scene differently. I saw a glimpse of early morning light from between the peaks, casting a glow across newly fallen snow and skimming the trees in the foreground. It left deep shadows in the forest area which created an atmospheric effect. Could this be what was missing? Although I was working on a watercolor I pulled my acrylic paints and began applying washes to the midground of the landscape. When that was drying I switched back to the watercolor.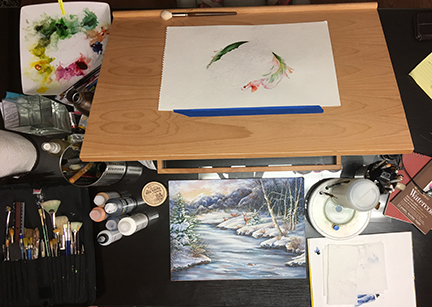 Switching from one painting to another kept my painting fresh. It also helped to switch mediums. My mind was at rest from the watercolor painting and focused on a different technique. The process was stimulating. My energy level was maintained and I was happier with my productivity.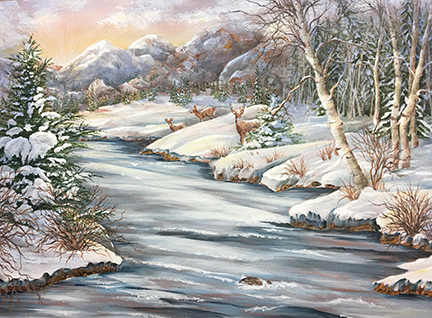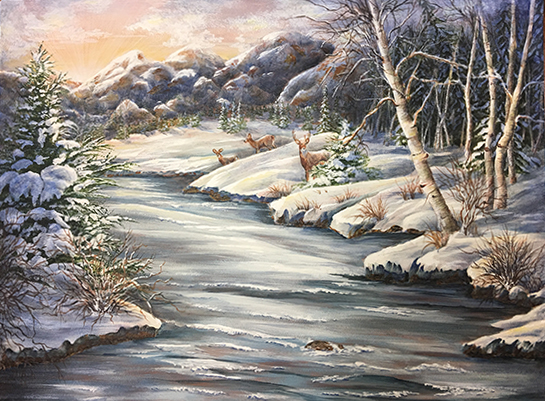 It brings a smile to my face when I think of the little things I keep learning about me. What do you do to give your mind a break when you need one?
Feel free to add a comment below and please forward to anyone you think might enjoy it.