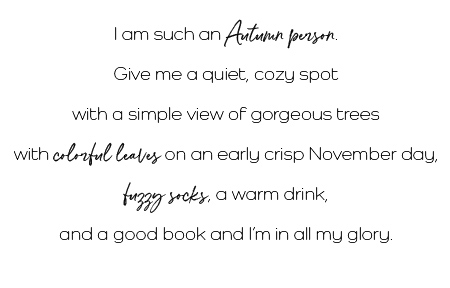 —Adapted from writings
by McKenna Kaelin

The Month of Remembrance


At an early age, I was kidnapped by the love of flowers. A love that continues today. One of the earliest photos of myself was taken at my aunt and uncle's farm, in Indiana, with a stem of hollyhocks in hand.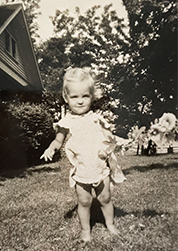 While painting a wall of six-foot-tall flowers at the Broadmoor Resort in Colorado Springs I added hollyhocks in remembrance of my aunt Virginia. 
My Mother passed during surgery the year I was painting a mural inside the entrance to the indoor pool at the resort. In remembrance of her, I painted her likeness on a nymph in the border under that mural. Within that border, I also painted a likeness of the Broadmoor historian and the architect who were instrumental in hiring me for the more than 30 areas I painted there. The freedom to include special memories in my murals is awesome. Oh, the stories my murals could tell.
A Recent Project
In 2016 I was privileged to visit my favorite muralist, Clare Basler, at her castle in the countryside of France. While strolling through her studio I stopped at a vase filled with radiant red and white Parrot Tulips, some of which were beginning to wane. The photos I snapped that day were the inspiration for these three small framed acrylic paintings, each measuring 7.5″x7.5″. They are available for purchase. You can contact me for pricing, mickey@mickeybaxterspade.com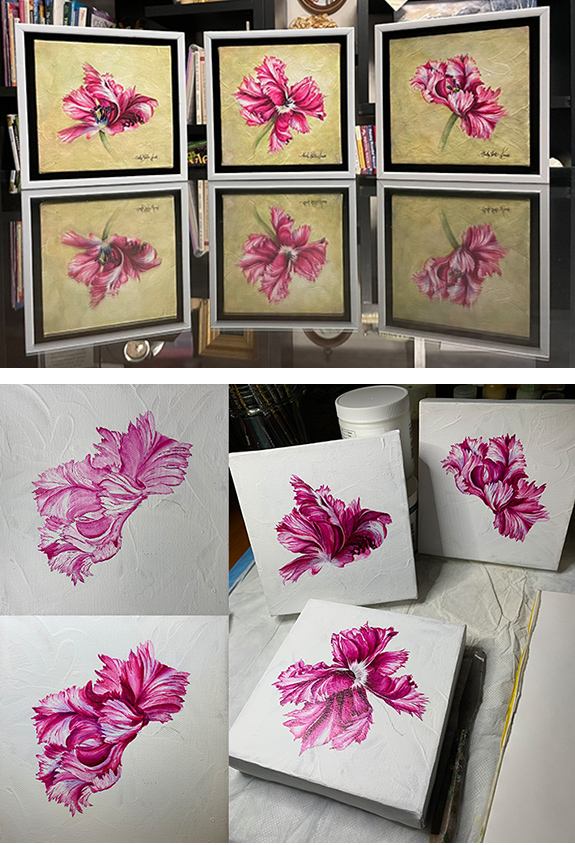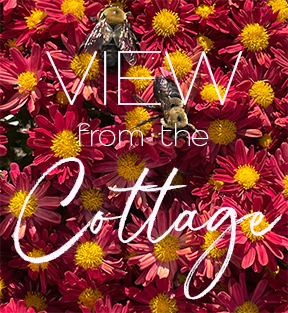 At this writing, Southeast Georgia hasn't had many cold nights. Cool temperatures become more consistent around Thanksgiving and continue through early to mid-February. Shorter winters suit me. It's just a hop, skip, and a jump from autumn to spring. That's a pleasant thought on cold, damp, overcast winter days.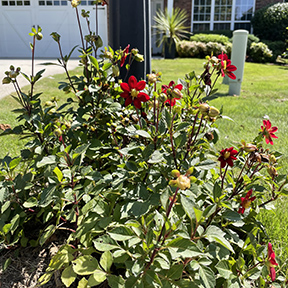 This time of year, as slight breezes pick up, the leaves fall in showers. The dahlias and mums are still in bloom but there is rowdy competition from the trees and shrubs.
The old stump near the woods is spotted with moss and draped with mushrooms. This fall it is surrounded by miniature white mums and pansies to accent its beauty.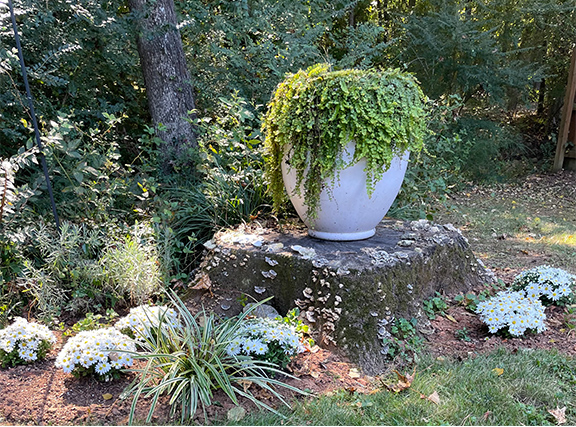 The Factory Shoals River is still a welcome respite. It's a small pleasure that temporarily quenches my desire to be close to water. As I hike through the woods to the water's edge I pass decaying tree trunks with delicate ferns growing from the moss and lichen-covered bark, the ruffle edged mushrooms add interest against a background of fallen leaves.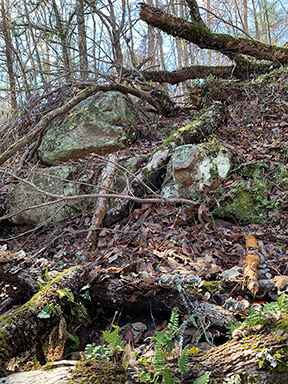 My favorite spot is a large boulder at the water's edge. It's over five feet tall with enough area on top to spread a blanket. I sit and listen as the sound of rapids drifts over me. I read, write, and take notes as creative ideas pop into my head.
Ahhhhh, the clarity that comes with the seemingly mundane. This is my semiretirement in Georgia. (Smiling as she writes)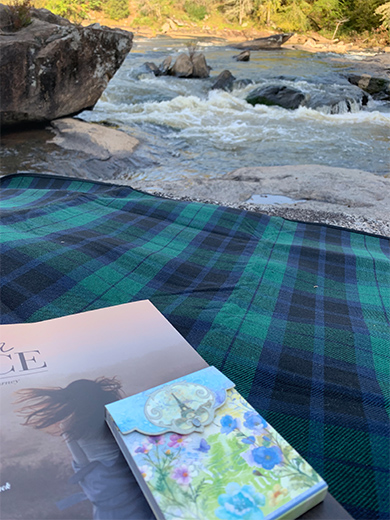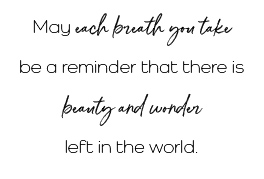 Here's a mesmerizing treat just for you . . .
Starling Murmurations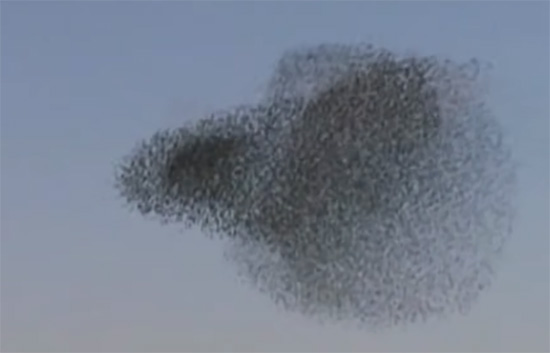 (click on the photo to view the video)
Happy Holidays and may your New Year be filled with good health, peace, and love!