Autumn, a time of transition, my first pet portrait outside of a mural, a place for nurturing, and a delightful email containing a surprise from my past. When I say "past" I'm talking . . . my art from 40+ years ago.  Wowza! I'd like you to know that I appreciate these few minutes you will be spending with me.
Painting in Pastels & Colored Pencil
Simba was the best buddy of a friend of mine and passed unexpectedly after surgery several months ago. Simba's owner is a photographer who posts his beautiful photos to Facebook regularly. I must have sorted through a hundred pics before deciding on which one to paint.
I wanted to see the beauty in the eyes and I needed plenty of shadows to create contrast. The eyes are as essential in animal portraits as they are when painting people. I liked that the tongue was out, in part, because it was partially shadowed as well.
I created this portrait in pastels and colored pencil on Canson Mi-Teintes Pastel Paper, 98 lb., 9″ x 12″. This was my first attempt at these mediums and I love them. It reminded me of painting on some of my favorite ceramic and porcelain pieces oh so many years ago. I could hold the clay form in my hand or lay it in my lap and paint. With the size of the paper, I could work kicked back in a chair, so comfy and not worry about making a mess. Funny how the familiar can bring back memories of painting so long ago. I hope you enjoy Simba's portrait.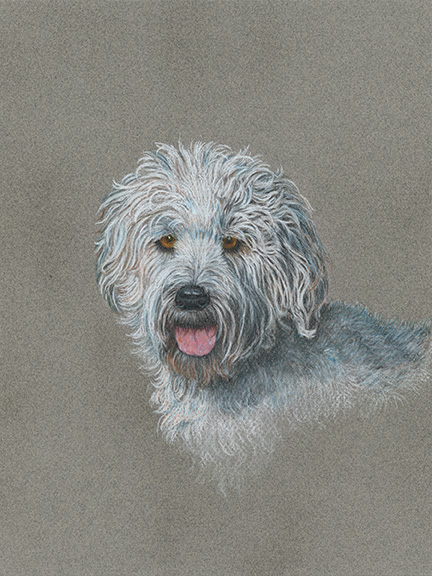 Transitions
There is a hint of autumn in the air in Georgia, a time of transition for me and another downsizing. I'm not certain I want to lighten my load much more but my home feels calming, peaceful and it's in a quiet setting.
My gentle transition began less than two months ago. Not everything has its place yet but that will happen. Shortly after I moved I mentioned to my sons that I had perfect spots for two white dogwood trees. As I was leaving Home Depot, a regular haunt since my move, I spotted small trees in front of the Garden Center. You guessed it, two precious white dogwood trees standing there waiting for me to take them to their new home in a pretty wooded area behind my new place. I don't expect a prolific display of delicate white dogwood blossoms outside my windows next Spring, a few blooms will do just fine the first year.
Looking into the woods from my little cottage I feel a stillness that nourishes my soul and to complete that vision, a young fawn frequents the property. I snapped this photo the first morning I awakened here. He still visits several days a week but his pretty white spots have disappeared. The other pic is one of my little dogwood trees.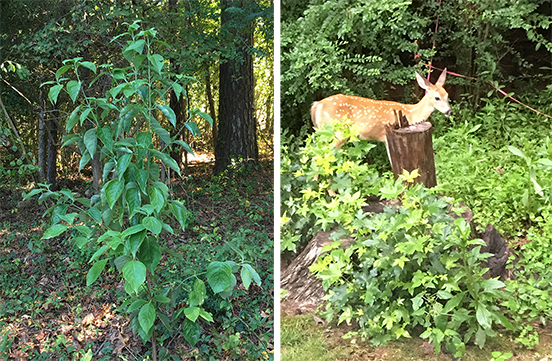 What a Treat!
It isn't often someone goes to the effort of Googling my name because they found a piece of art I had painted in 1975. At that time my first ceramic studio in Indiana had been open for two years. Here is the email I received from, Kimberly, an artist in Ohio.
I found the attached ceramic piece by you at a thrift shop. It was like the old "One of These Things is Not Like The Other" song (did you sing that in your head?). It just jumped out at me and I had to buy it. Several years later, it still makes me happy to look at it.

I finally got around to Googling you and was happy to find your website. Can you tell me anything about this piece? I just love it. I like the textured glaze and how the flowers pop with the green lid and base framing them!

I am an artist, too, having finally gotten back into it just this year. I love pen and ink but want to get back into painting, too.

Best,
Kimberley"
I responded to Kimberly's first email and this is from her second email:
"Actually, I misread it and thought it was '95 at a glance! It's in such beautiful condition and looks contemporary. I'm so happy to get in touch with you. 🙂

Kimberly
Instagram.com/gardenwife"
It's a nice feeling that a piece of art from so long ago found another home and is creatively displayed. I have often wondered how glazes held up over the years, it's interesting that there has been no crazing. The apothecary jar was one of those favorite cast pieces mentioned above. The second jar is from the same mold. Painted with a different design and painting technique it's one of the few pieces I've kept from that chapter of my life. It's fascinating to discover a segment of the journey my art has traveled. Thank you, Kimberly, for taking the time to let me know how you discovered my piece and the joy it brings you.
Thank you for allowing me into your life to share my art and a few of the pleasures I find in mine. I hope my newsletter added a bit of joy to your day. If so, would you consider sharing it
with a friend!
Wishing you beauty everywhere you look!