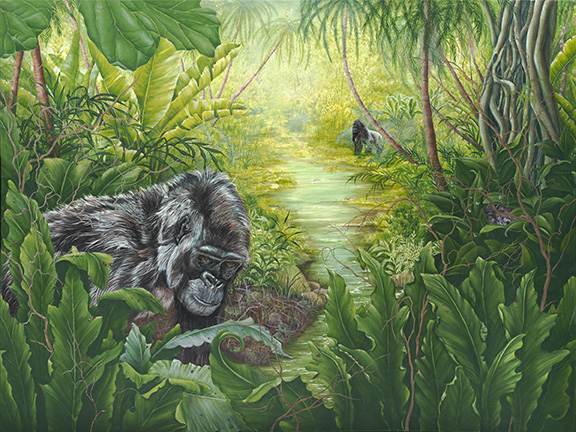 Each brushstroke yields a sense of timelessness and is a journey to convey the immensity of nature on the limited space of a canvas or a piece of watercolor paper. My paintings are fragments of my world or portray the world my clients envision for themselves.
Even when painting powerful subjects, I adore the contrast of gentleness and fragility that life offers. I believe that we each leave a bit of our essence when we create.
Award-winning Talent
Mickey is so highly talented and recognized for her artistic talent in many media. She has an award-winning self-taught talent that is inspirational to even the most highly schooled in the art world. What an awesome Lady. I love her work!
Vicki Lea Chase, Representative at Transamerica Financial Advisors, Inc.
Beautiful Murals
Mickey is an inspiring, talented artist with a beautiful soul. Next time you are visiting The Broadmoor in Colorado Springs, CO, take some time to notice her beautiful murals inside on many of the walls and ceilings…
Anita Larson, Certified Funeral Celebrant/Officiant, Celebrant Foundation & Institute
Quality & Graciousness
I am overwhelmed by your talent and so impressed by the quality of work and the graciousness that you displayed to everyone around you… Many of the people are speaking about not only your talent, but your warm and caring personality.
Terri Haack, CHA, Vice President & GM – Kingsmill Resort, Williamsburg, VA
Beauty Painted in Friendship
Yours is a special gift – beauty painted in friendship. Our home will always have an extra warmth because of your work. Thank you!
—Fondly, Karen & Tom Hathaway
A Garden of Delights
After seeing the living room, (my guests) all asked for tours of the house to ooh and aah over your wonderful flowers, vines, castles, and fanciful characters. You've taken my small home and turned it into a garden of delights and I can't thank you enough.
—Jan Bullock, Colorado Springs, CO
Rainbow Butterfly Testimonial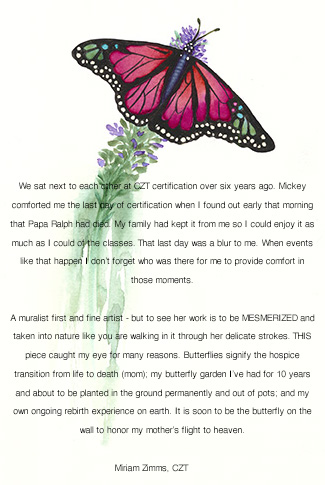 Subscribe to the Artful Whispers Newsletter
No spam, I promise. Just happenings in the studio and things about life and art too good not to share. Never, never, ever will I sell your email address.