Personal Testimonials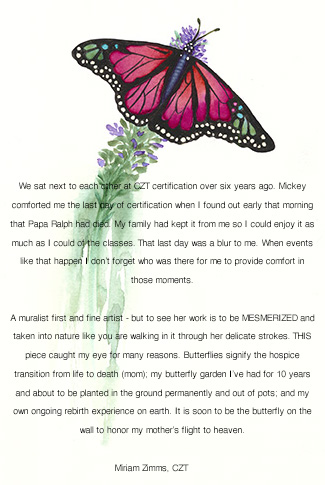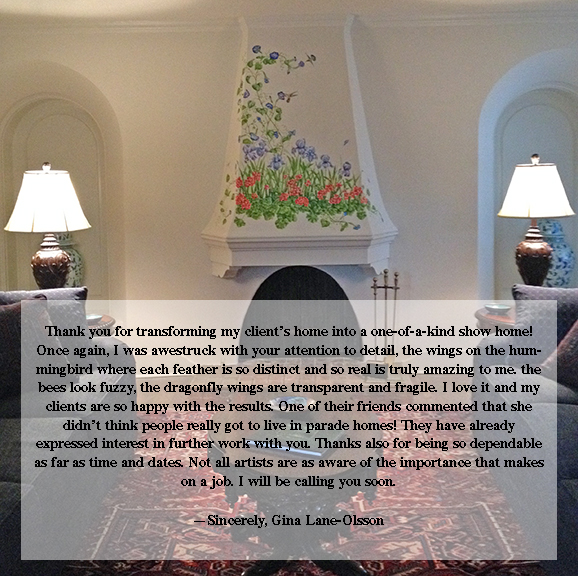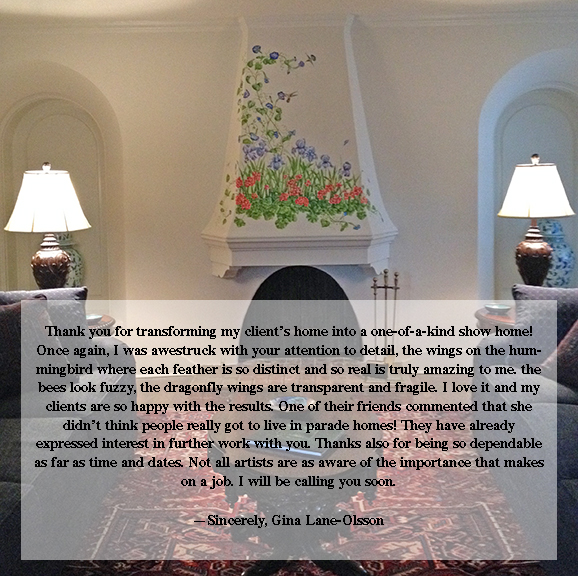 I want to take a minute to tell you what I love about your blog. You inform and entertain several seemingly disparate reader groups in this effortless, non-sales-y way. You get non-artists excited about the beauty of nature and they become interested in bringing your beauty into their world in the form of one of your paintings. No hard sell, no "buy now," no go get this "giveaways" on Facebook now; just more like, 'here, look what I saw this week, aren't parrot tulips miraculous?' And they are. I never noticed them really before I looked at the ones you painted. You know what you do with your flower studies reminds me of this quote:
"When you take a flower in your hand and really look at it, it's your world for the moment. I want to give that world to someone else. Most people in the city rush around so, they have no time to look at a flower. I want them to see it whether they want to or not." Georgia O'Keeffe
And if that wasn't enough you help artists like me with painting technique info but personally, I get even more out of your casual but deep exploration of philosophy along the way.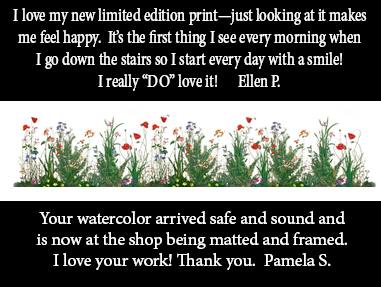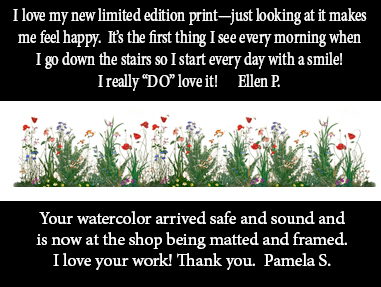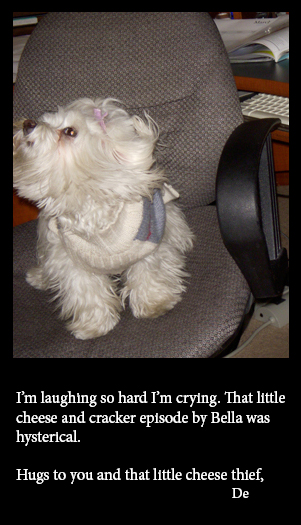 I was just thinking of you this weekend as I rocked Will in his room. I love sitting in his room-it is always so relaxing to me. Will is doing wonderfully. Unfortunately, Boogsie passed away a couple of weeks ago so we are even more glad that you painted them in Will's room. Our house isn't the same without him.
—Shawna
I bought two of your framed flower prints at your show/party. I gave one to my mother and one to my mother-in-law. They both raved about it—especially my mother ( she is often quite critical of the presents she receives)! Thought you'd like to know.
—Barbara
A quick note to say thank you for the beautiful work on the oncology project at Memorial Hospital. It has brought the warmth and human touch right to the heart of the project. And I so love to work alongside you! Again, thank you."
—Joanne Bonicelli
Thank you so much for the outstanding artwork you created for our home. We absolutely love it. Your creativity and imagination captured the warm and welcoming feeling we want our home to give to all who enter. We love having the original wall-art throughout our home. All our family and friends have been impressed with your creations, too. Again, we applaud the professionalism as well as the punctual and friendly service we experienced working with you. Please count on us for recommendations to others considering your services. Again, thank you so very much for creating a beautiful touch to our home!
—Sandy & Steven Prebeck
Mickey Baxter came into my life about ten years ago as an artist working in my home. We were so pleased with her work that we kept adding more projects and she was with us so long she almost became part of the family. In the past ten years, she has worked on three of our homes in Colorado and our second home in Phoenix. They all vary in style and technique and we have enjoyed each of them so much. We have also referred her to many of our friends and they also have been very pleased with her talent. Ten years later . . . I would refer to Mickey as my friend and know I could always count on her for her artistic talent as well as a friend that would be there if needed. If you would like a personal reference on Mickey, please contact me directly.
—Cheryl Lansing
Thank you for adding so much to the quality of my life by making my bathrooms look so magical. You have a marvelous talent.
—Page Walker
A special thank you, Mickey. I've just finished an evening of entertaining guests for dinner. After seeing the living room, they all asked for tours of the house to ooh and aah over your wonderful flowers, vines, castles, and fanciful characters. You've taken my small home and turned it into a garden of delights and I can't thank you enough.
—Jan Bullock, Colorado Springs, CO
Yours is a special gift – beauty painted in friendship. Our home will always have an extra warmth because of your work. Thank you!
—Fondly, Karen & Tom Hathaway
And what a voyage it was! Thank you so much for a personalized bathroom. We really love it.
—Alexandra & Chad McKeller
For some time I had admired Mickey's beautiful artwork at the Broadmoor Resort. When I decided I wanted a floor painting done, Mickey was the only one I considered. The finished work is so beautiful. Many people think it is a real carpet unless they look closely. A carpet cleaner tried to pick it up off the floor one day, to take it back to his shop to clean with other items he was taking to be cleaned!
I have found Mickey to be very easy to work with. She listened to my requests and did everything she could to please me. In doing so she still maintained the integrity of her work. Her personality is always upbeat and positive. She is a beautiful person inside and out. Just as beautiful as her artwork.
Please don't hesitate to call me if you would like to view the work she has done, in my home in person. You can get the phone number from Mickey.
—Thank you, Sherri Wehere-Herzberger
Mickey's talent is unquestionable; all you have to do is look at what she's accomplished to know what she'll accomplish for each client. What's especially refreshing is that as talented as this woman is, she is truly kind, down-to-earth, and interested in others. Think of it this way: the beauty she creates is a reflection of the beauty she has within.
Kathe Skinner, M.A., L.M.F.T, Owner, Being Heard, Colorado Springs
Mickey is so highly talented and recognized for her artistic talent in many media. She has an award-winning self-taught talent that is inspirational to even the most highly schooled in the art world. What an awesome Lady. I love her work!
Vicki Lea Chase, Representative at Transamerica Financial Advisors, Inc.
Mickey is truly the most creative & professional artist/muralist in the industry. I can always count on her expertise in any subject I select & I know it will be perfect. Mickey has also done numerous murals for the Broadmoor in Colorado Springs' most prestigious 5-star resort, which is always fun to check out & get inspiration from. Looking forward to our next commission.
Sherry Agee, Interior Designer at Agee Interior Design, LLC
I have known Mickey for a few years and we have many of the same contacts and they all speak highly of her. She is a wonderful person and of high integrity. Her art is really nice. I'm not an artsy fella but My wife enjoys great art and speaks highly of her skills. I have seen her work at the Broadmoor Hotel and it speaks volumes for her. She truly is a great artist.
David Lee Coleman, Owner, Quick Gym, Colorado Springs
I recently purchased some of Mickey's beautiful artwork in the form of notecards and was so taken with them that we discussed some future collaboration to support my interest in encouraging others to write more personal notes and letters. I found her to be delightful, very professional, and extremely accommodating.
I would recommend Mickey both for her talent and her personality, and I recommend her products for their quality. Doing business with her and with ArtisticVoyage was a pleasure.
Elizabeth (Herbert) Cottrell, Business/Technical Writer, Ghost Writer, Blogger, Author, Spiritual Writing Retreat Leader, Note Writing Evangelist
Mickey has such beautiful work, from her hand done cards to her unique perpetual calendar. Her works of art will definitely inspire you!
Debbie Brookham, Founder-CEO Furry Friends Inc., Colorado Springs, Colorado Area
I have had the pleasure of meeting Mickey while creating her website and found her to be a wonderful client. Not only is she professional in her approach, but very talented in her art. I was blown away by the murals she created. I recommend her highly.
Anne Adele, Dwarfdog Design
I have had the extreme pleasure of using Mickey's artwork personally, as fine wall art in my home "A Bite of Breakfast" my favorite chickadee likeness and "A Leap of Faith", and the use of her amazing collection of greeting cards to keep in touch with friends and business associates. But I have most enjoyed putting her card collections in my basket creations, they perfectly complement a luxurious pamper basket, add comfort and functionality to a sympathy gift or color, punch and pizazz to a closing gift. Mickey's cards and paintings are at once incredibly detailed and accurate to the finest detail yet colorful, whimsical, and thought-provoking. Her murals rival those of the masters of old. Her talent never ceases to amaze and inspire me. Mickey is a joy to work with, spunky and sweet and so humble for an artist that I will be proud to say one day "I knew her when….." Bravo Mickey!
Beth Alexander, Co-Owner President CFO at Coons Construction Services
Mickey is an inspiring, talented artist with a beautiful soul. Next time you are visiting The Broadmoor in Colorado Springs, CO, take some time to notice her beautiful murals inside on many of the walls and ceilings. Then stop in the gift shop to see all her note cards. Her artwork speaks volumes more than any words I can write.
Anita Larson, Certified Funeral Celebrant/Officiant, Celebrant Foundation & Institute
I have known Micky Baxter Spade for several years now. I own several of her prints that are proudly displayed in my home. I have also bought many card sets from her over the years, including her last Thanksgiving Cards.
Mickey's art is always commented on by my guests. And her cards are always acknowledged by my clients as beautiful & "worth framing".
I have seen many other works of hers at the Broadmoor Hotel & at two friends' houses, Gina Lane Olsson & Lori Sorrels. Both exceptional pieces.
I would highly recommend Mickey for any creative murals your home is in need of. Her talents are exceptional, and her attention to detail – simply amazing.
Cyndi Stout, Owner Promoz, Team Promoz & Grow Your Promo Biz Promotional Products Expert and Mentor with True Sales Training program. Kaeser & Blair – PPAI# 109323, US Army
Your Broadmoor history was nice to read. I didn't realize you had 'Mickeyfied' 35 different spots there! What a legacy! All your descriptions are so full of your love of the work and your focus on personalizing it for the location. It shows in all you do.
I never thought about you having to calculate and maneuver around a fire hose 'painting'. Always the consummate professional-you. I love thinking of your smile. Keep keepin' on!
DeAnn Dingwall, a longtime reader of the Artful Whispers Newsletter 
Corporate Testimonials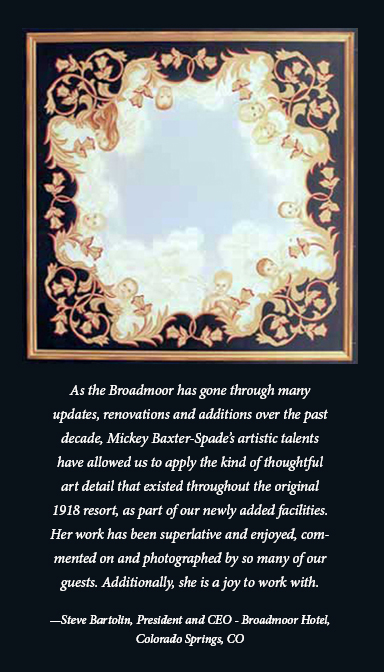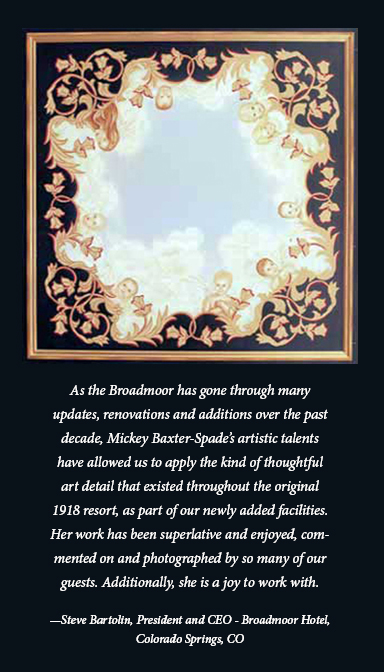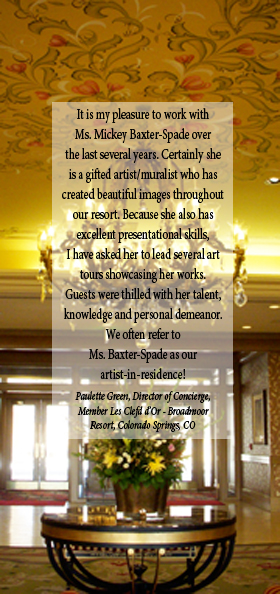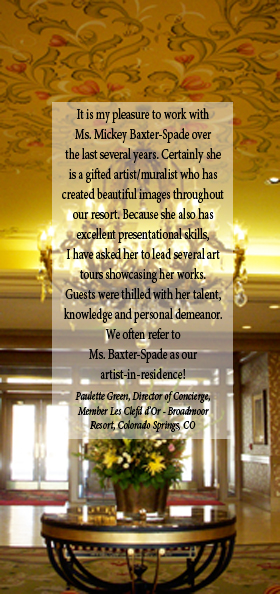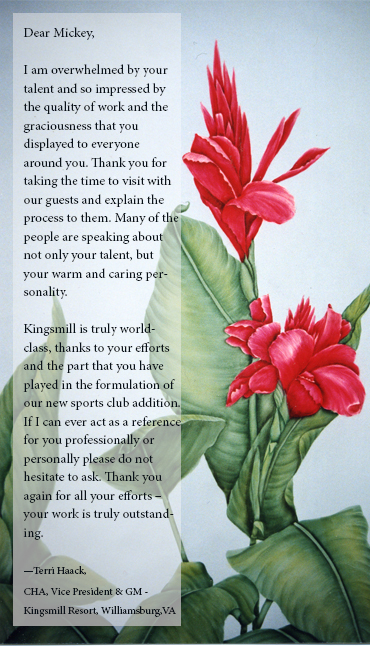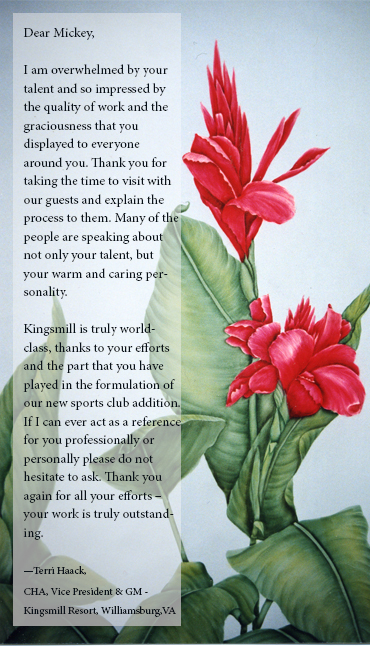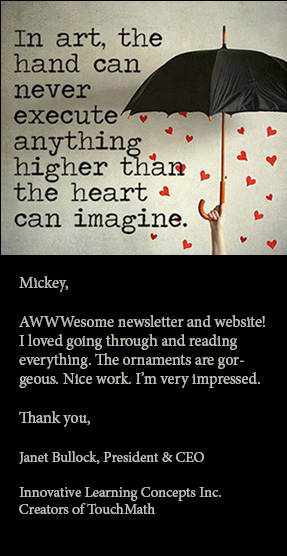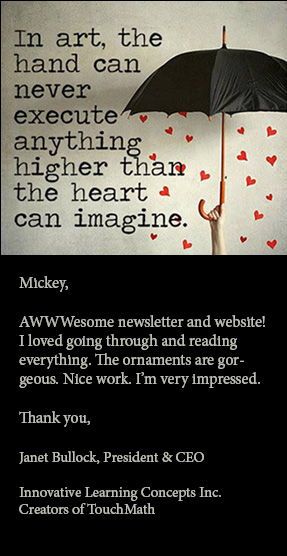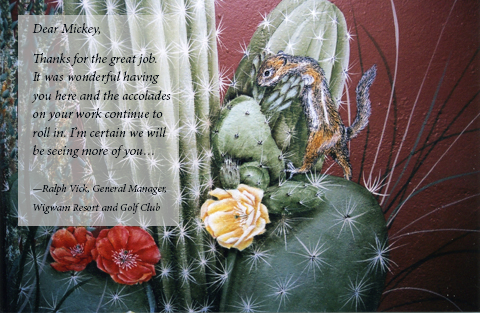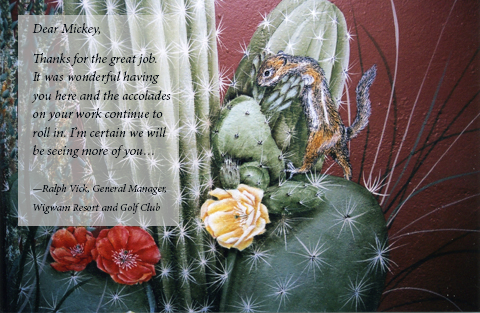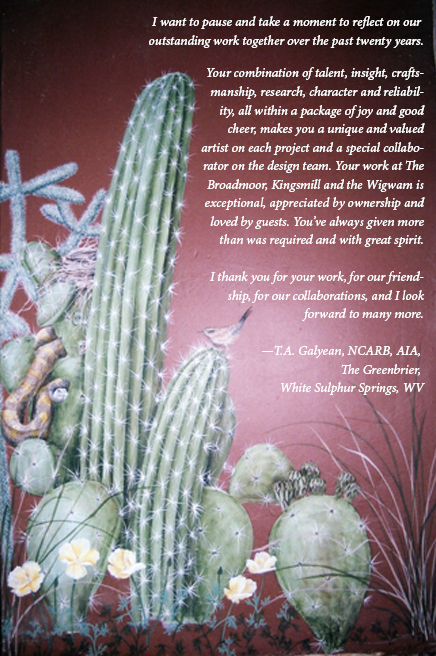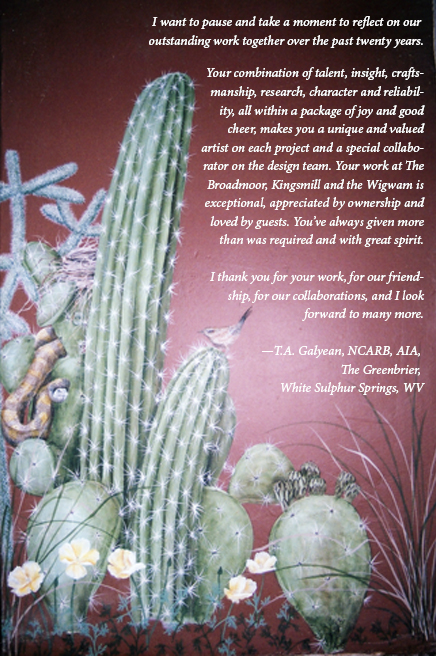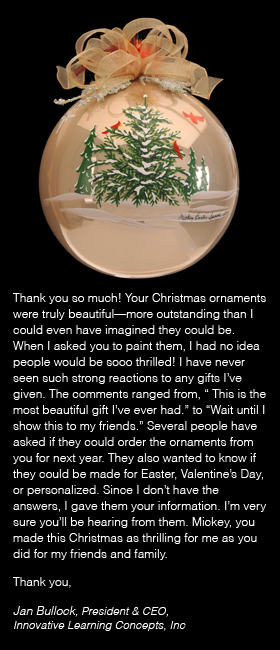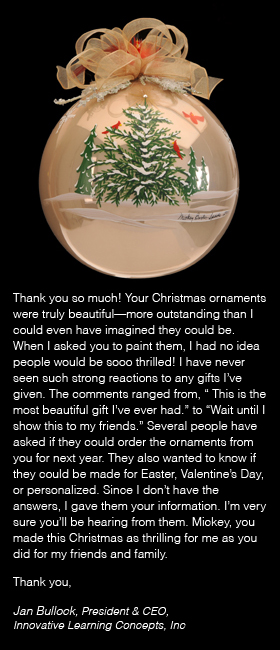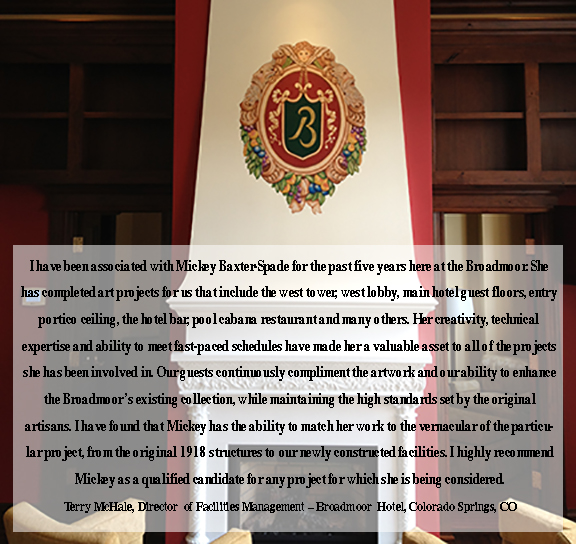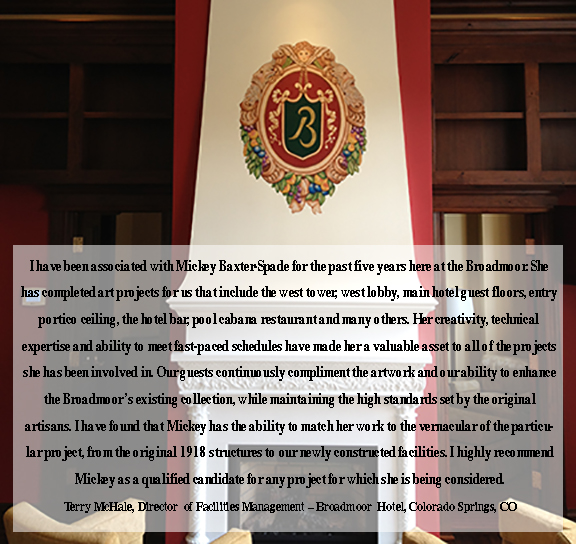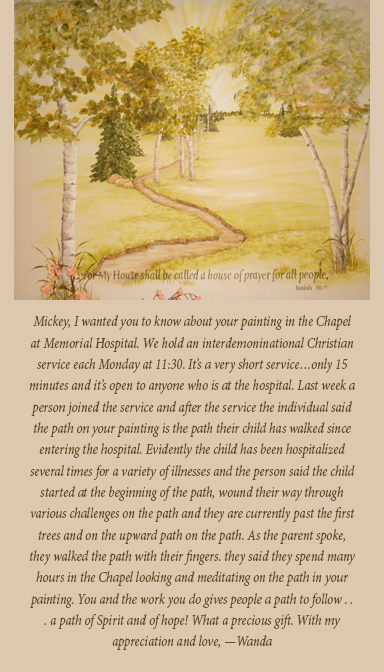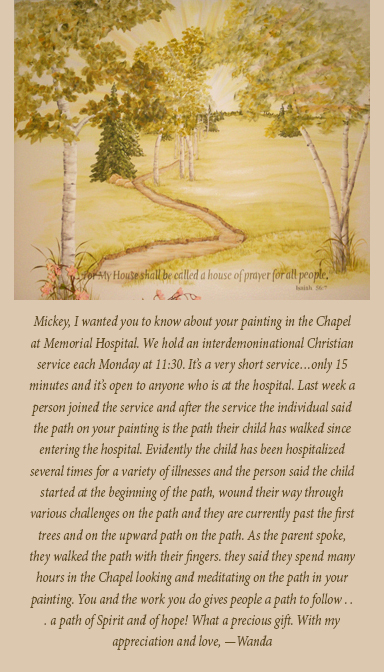 SaveSave