Each blank canvas is a new adventure. Two of my grandsons have made sure that I had enthralling adventures for the last two years. In the January newsletter a year ago, I wrote of my oldest grandson's request for a painting for the living room of his new home.
This year grandson #2 asked if I would paint something for the master bedroom in his first home. When I asked if he knew what he would like, without hesitation, he said, "a gorilla." I laughed and said, "Really?" He smiled and said, "Yes, gramma." Still smiling I told him about a phone conversation we had when he was a preschooler. I had returned to Colorado from Georgia after adding animals to the juvenile jungle in his bedroom. The conversation went something like this . . .
Brady, excitedly: Gramma Mickey, I know what I want the next time you come!
Me: What would that be Brady?
Brady: A zebra!
Me: A zebra?
Brady, even more excited: Yes gramma Mickey, a zebra!
Me: Do you mean one of those animals with all those stripes?!?
Brady, like he couldn't believe I wasn't getting it: Yes gramma. a zebra!
Me, kidding: Wouldn't you rather have a BIG Gray Elephant?
Brady: No gramma, a zebra!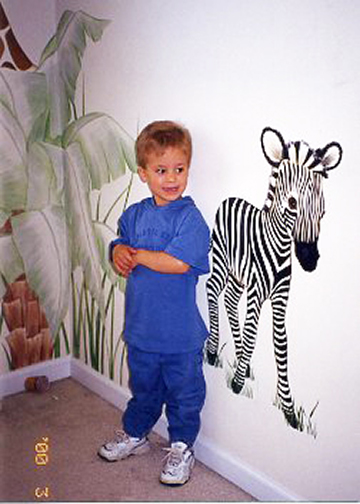 It never occurred to me that I would paint a gorilla, or three. I found a reference photo on Pixabay, a perfect specimen taken by a photographer in Switzerland, Sponchia, I emailed her and she graciously gave me permission to use her photo.
Not All Seasons were for Creating Paintings
My 2018 Spring painting project of Parrot Tulips carried into Summer. Then the house hunting began, the move and the decorating continues along with planting flowers and trees.
Fall turned out to be a time for learning and researching new painting subjects and techniques. Rebecca Zybel, a lovely painter in Myrtle Beach, organized a watercolor workshop with Janet Rogers. Janet is an incredible watercolorist. Her style wasn't within my comfort zone but I adore her work and I wanted to push myself. I struggled, really struggled. Doesn't it seem that painting in a loose style would be easier to pick up than representational art? Not for this artist, geesh. I have a lot of practicing to do. I may share later. It could be a lot later.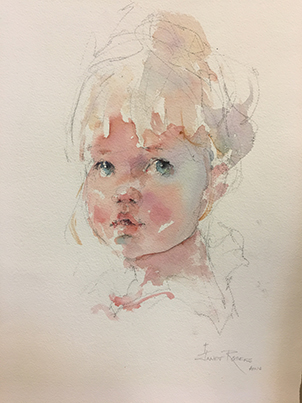 Portrait by Janet Rogers

My journey from Myrtle Beach, SC continued to Asheville, NC. Halfway through my trek, I stayed at an artist sanctuary, owned by another gifted artist, Mary Erickson. The following morning I walked the quiet, serene grounds photographing nature.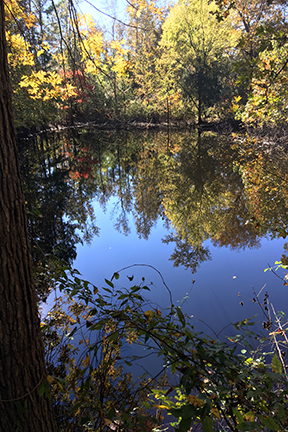 High Ridge Gardens
Then off to a mastermind workshop with Alyson Stanfield. For two days I would be with even more artists, a great experience. This was my second workshop with Alyson and there were no disappointments. Her workshops attract artists from around the world. We all came away with ideas to put to use in our businesses.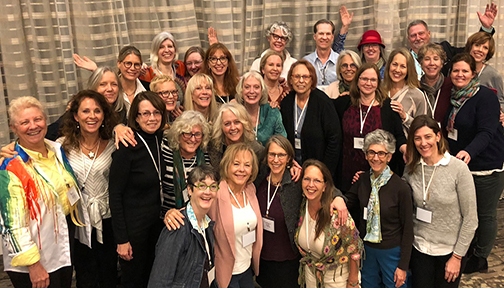 Christmas Open House and Art Show
Upon returning home I began planning a Christmas Open House and Art Show at my home. Two dear friends helped with the celebration, Tammy and Cathy Jones, I couldn't have done it without them. The turnout exceeded my expectations. For two delightful days, I saw many friends to include an artist friend from Decatur, Vickie Martin and I met lots of new neighbors. I took some shots before the Open House but we got so busy we didn't get photos taken of guests, so sad.

As an artist, one of my greatest thrills is when a client finds art that is perfect for their home. Thank you to all who have given my art loving homes. For those who inquired about commissioned art; if I haven't contacted you about your pet portrait yet please email, call or you can comment on my blog, it may not have gotten on the list. A special congratulations to Peggy Lassiter, winner of the gift basket.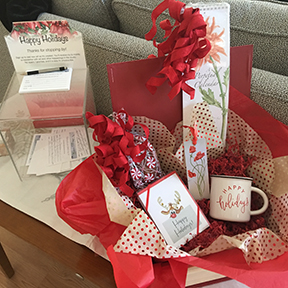 This was a nice surprise. My sister sent a photo of her beautiful 2018 Christmas tree with one of my paintings in the background. I love the way the lights reflect in the window and the painting. Every Christmas I look forward to seeing how she decorates her beautiful tree.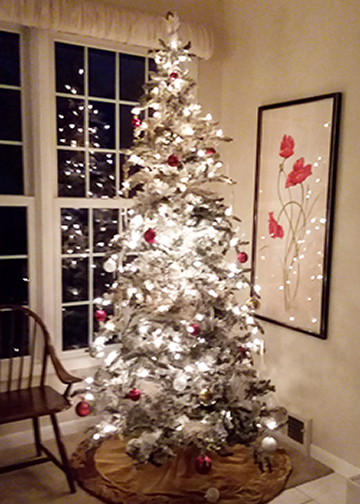 If you have a friend who would enjoy this, please share in its entirety. I am always happy to answer any questions you might have and I love it when you are kind enough to comment below. Have a joyful New Year.