August was yet another busy, creative month on my artistic voyage. I am so blessed to be working with beautiful people. These were the highlights of last month.
• Finished murals in the lobby of Dr. Tonia Sabo's offices in Broomfield, Colorado
• Created ideas for signs for The Boutique at the Broadmoor Resort in Colorado Springs
• Designed signage for the new Broadmoor "Christmas House"
• Took the time to organize my office
Wall Pocket Mural

You might remember last month I painted a cluster of nine foot tall aspen trees with poppies, daisies and critters adding to the finishing touches of Dr. Sabo's office. Dr. Sabo worked at the Denver Children's Hospital and recently started her private practice. She specializes in headache prevention for children and adults. I returned for two more days of painting the first week of August.
Painting wall pockets has been a solution to many a decorating dilemma for clients in the past. I will talk about some of the reasons for this creative solution in a future issue.
Rather than hanging more framed art in her lobby Dr. Sabo chose to add a bit of whimsy by having a hand-painted wall pocket filled with poppies and daisies. The same elements as I painted at the base of the cluster of aspens. The simplicity of the wall pocket itself ensures the flowers will be the focal point. This is the first time I was blessed with a smooth wall for painting a wall pocket full of flowers. Oh, how I love to paint on smooth surfaces. The design measures approximately 30″ x 40″.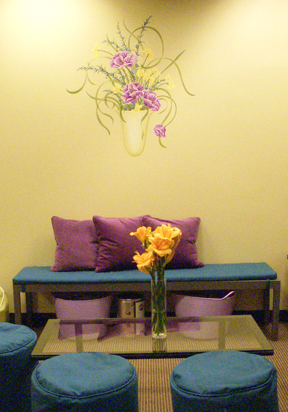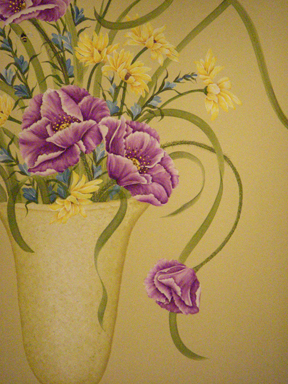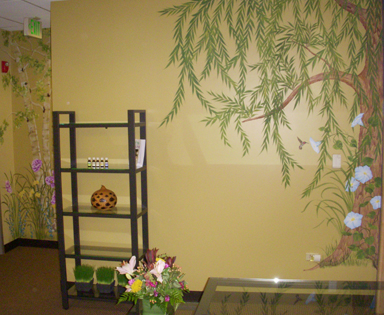 As I was finishing up the wall pocket Dr. Sabo asked if I thought a weeping willow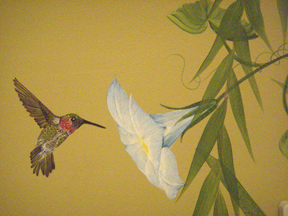 tree would work in the area. She felt that it would feel so relaxing, I agreed. I painted the trunk and limbs with a few pliant branches before leaving that evening and finished it up the following morning. As we were leaving the Doctor's home that morning she was showing me her beautiful flowerbeds. Besides yellow daisies it seems she also loved morning glories. So climbing the willow tree is a vine of glorious over-sized morning glories with a hummingbird delighting in the nectar of one of the blossoms.
Getting Organized

This was huge! My office is always the last place I tidy up. Maybe because, like many creative people, bookwork is the least pleasurable chore I do. Once I start it isn't bad. I tend to leave files on my desk along with other paperwork, articles and piles of business cards that I accumulate far too long. I don't know if the full moon had anything to do with it but I started the day before the full moon and continued throughout the following day. I threw out paperwork that no longer served me, filed away folders of completed projects, found places for articles I want for reference materials, organized CDs, unsubscribed to ezines and blogs that no longer held my interest and subscribed to a few new ones that better serve the direction I see my business going. There is nothing as freeing to me as having a clean desk, filing drawers that are up to date AND there will be fewer emails in the morning. YES! As I mention this happened on August 13th, the night of the full moon. Now let's see what I have made room for in my life.
On a Personal Note
It always seems true that everything happens for a reason. I thought I was just organizing my office, now I know there was more. While sorting through piles of papers and file folders I found a letter from my late husband. I remember when
he gave it to me, our first Christmas, he said, "I will write you a letter every Christmas." Little did we know that would be the only Christmas letter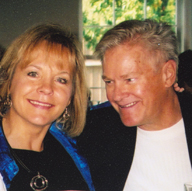 he would write to me. The words on the outside of the lovely card that accompanied my letter were . . .
"The Power of Love . . .transcends distance & time."
Inside he wrote . . .
Such a Joy To Spend This Life With You!
I doubt the love ever wanes but you learn there is room for another, if that is what you choose. You file that love away in a special place in your heart to be visited whenever you want. The surprising gift I received from this full day of organizing was that I didn't shed a tear when I read my Christmas letter. I did have a smile on my face and a warm feeling in my heart the rest of the day and I slept so well that night. How I love beautiful surprises. Here are two of my favorite photos of  Bob and I.
This is a new section. I usually answer questions privately unless they are on my blog. It occurred to me that others may gain insight from the question and answer.
Q What is your process for working with clients?
A For me, there is no singular process. Each client is different. Some have specific ideas as to what they are looking for and others want what comes to me, usually in dreams, for the space and feeling they want created. These are the most important things that come to mind right now.
• First and foremost Listen Carefully. It's important to understand the look your client is wanting to live with. They have put their trust in you and you are working for them.
• Research, if there is any doubt in your mind figure it out before you start. There will always be unexpected things that come up but the more prepared you are up front the more "in-the-flow" you'll be while working.
• Things come up and clients have new ideas. This can take more time than originally planned. Make sure your client understands up front that if it takes longer because of their changes you will be compensated accordingly.
• Since I don't repeat anything identically each project makes me stretch. It's good to get out of your comfort zone.
• Have a contractual agreement in writing explaining your terms, to include terms of payment. Give a short description of what you will be doing with pricing and a time frame.
It's not fun to be defined by someone else' terms or put into a box. For me each project is different, that's what keeps me interested. If you have a question about what I do or how I do it, please ask. I've worked a long time at my craft, I would be delighted to share what I have learned.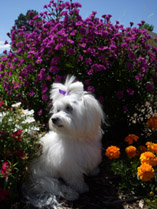 Bella's Insights

Hi Everybody! Thought I would introduce you to a couple of my new friends (seeing as how mom made me stay home when she went back to paint in Dr. Sabo's office last month. Now I can't tell you more about that adventure, waaaa!)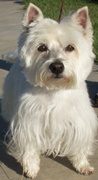 This little white beauty is Shelby. Doesn't he look just like the dog in that dog food commercial on TV? Mom called him a Westie. Shelby's dad told mom and me that he was named after his race car. Mom said that Ford made a model of Mustang called a Shelby in the 60s & 70s and they are making them again or maybe they always have and she hadn't noticed. I've never seen a race car but is sounds exciting.
Now meet my new neighbor, Kimba. She is a gigantic (to me), stunning white German Shephard. I'm not really sure that Kimba is my "friend" YET because she still barks at me when I go out to my grassy area across from her home. Mom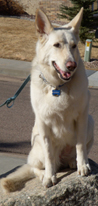 doesn't let me bark back, that's a tough one, but I still get in a fearsome growl.
One day mom was working in the garage. She was in and out, in and out then she forgot to shut the door to the garage and the garage door was up. Well, I decided it was time to visit my grassy area. I sauntered through the garage with my "tail feathers" swaying back and forth over my back, to my grassy spot. All of a sudden I hear a deep baritone WOLF, WOLF, WOLF. It was Kimba! How startling, I couldn't help it – I just couldn't help it – I went into my Big Dog stance and barked back. Boy, did that start some barking on both sides of the street.
Since mom didn't know I was coming out in the first place, there was no leash to hold me back, watch out Kimba. Mom couldn't stop me; all seven ponds of me charged across that drive and I peed in the grass under the window Kimba was barking from. Now she knew I wasn't about to be intimidated and I was ready for anything. Well, about this time, mom came to get me, geeeesh, she picked me up, how tough did that make me look? She kept telling what a bad girl I was. What the heck was she talking about, I didn't start it.
Mom told my big brother Rich about that little adventure and he said, "Oh yeah, Kimba was watching and thinking . . . you are dog meat little girl." What do you think he meant by that?!?
Life is an Adventure!
Unrepentantly, Bella