Being Thankful for All That Was
This is the third post in the series of my experiences after reading and completing the exercises in Julia Cameron's books, The Artist Way and The Vein of Gold. To reiterate this all took place in the mid to late 1990's.
Continuing to do many of the exercises from The Artist Way and to meet with my VOG group each week, the transition was amazing. Two weeks after writing our song we were to write a prayer and embellish the paper. Somehow writing a prayer was much easier now because I was and will be forever grateful having moved through an intensely traumatic portion of my childhood.
At this time in my life I still find it mind-boggling how a relatively short period of time in one's life can cling into adulthood. Many of us take our emotional aches and pains to the grave, such a heavy burden to carry. I won't say it was easy to move through those emotional blocks that held me back but when you realize it isn't necessary to carry that load, life is easier and more beautiful.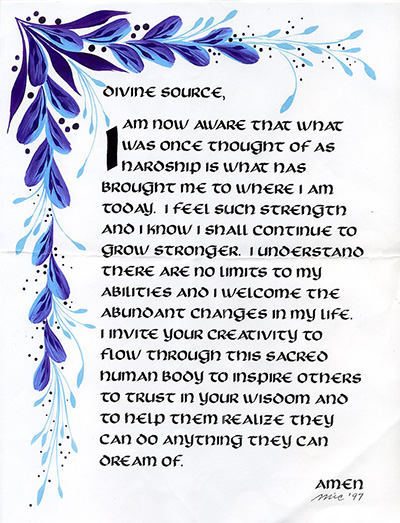 Another item I found in my copy of The Vein of Gold, non-dominant handwriting. I'm unsure if this was part of Julia's book but nonetheless thought you might find it interesting.
If you are unfamiliar with non-dominant hand writing here is a quick synopsis.
1. Quiet your mind.
2. Write a question on a piece of paper with your dominant hand.
3. Be still and listen to whatever pops into your head.
4. With pen in your non-dominant hand write what you hear. Do not edit.
5. Wait to hear if there is more.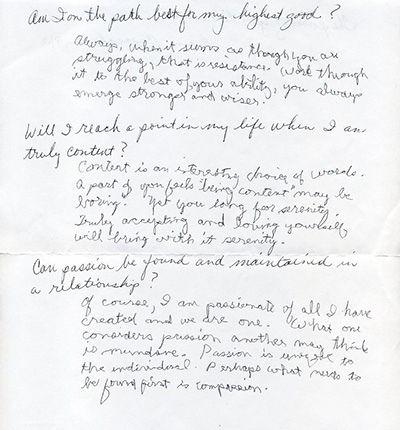 There is no need to be an artist to benefit from Julia Cameron's work. The only requirement is a need to make a change for the better in your life. And when you've finished her exercises your mind will be more open and a warm heart will be just the beginning your gifts to come.
Now I need to grab another of Julia's books. Not sure which, I'll know it when I see it. You see I've had a dream for over a year and haven't made the leap of faith needed to fulfill it. Wish me luck! It's time for more growth.
Ooooooo, a Boo Boo
The email read, "help me fix my big boo boo" This is a short video of a simple little project gone wrong and the solution. You can read the full story here.


Dear Mickey,
I found you on Facebook and love your art. I am having a little problem with one of my paintings and thought I would like to have your opinion. I just finished an acrylic painting of scenery from a photo I took while I was on vacation. It was a bit cloudy that day so my pallet was mostly blues, greens and several shades of grey. It looks dull and cold. I don't like the feeling of coldness. What would you suggest. –Liz D.
Hi Liz, thank you for a great question and the compliment. My personal opinion is, you don't have to paint exactly what you see in your photograph but if choose to keep it as you saw it that day it sounds as though you captured your subject accurately.
If you choose to change the feeling you could warm your colors by painting some highlights with warmer tones of greens and greys. A slightly warmer environment can be created with the use of a honey-gold color. It warms your painting. Accenting with touches of rose/pink with your cool greens will give you a slightly warmer atmosphere.
If you are feeling a bit more adventurous you can add a warm focal point and continue those colors throughout your painting adding warmer greens and accents of lavender, orange or even reds will give you a very warm atmosphere.
Hope this helps,
Mickey
Bella's Insights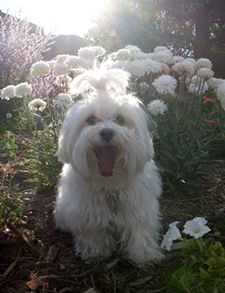 Hi gang, I'm back with yet another adventure. How lucky can I get! You'll never guess where I got to go, F I S H I N G! What a day, mom said it was in the 90's whatever that means. All I know is it was hot. Mom and I caught a trout. Dan put it in some wire thingy and stuck it in the water. I might add, cold water. Mom took her shoes off and went in and excitedly said, "Come on Bella." I put one paw in and headed for dry ground, geeesh, not funny.
Mom was turning a little pink so I took her to a shady spot and we talked with some nice people visiting from Oregon. When we got back there were four fish in that wire thingy. Pretty cool how they just swim into that thing. (Dan wouldn't like that I said that.) Then the sky was getting dark so it was time to head home.
When we got home mom fixed some snacks and put them on the deck. A little later I heard her say, "Where's Bella?" "Just guarding the cheese, mom. Heh, heh. Too bad they got out here so soon, I was about to do a little taste-testing. You know, just to make sure it was safe for her."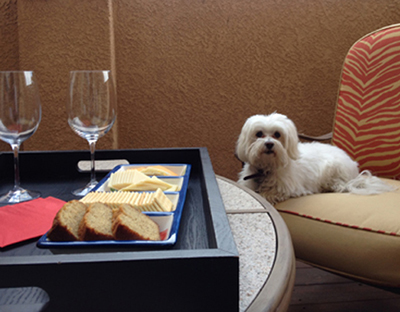 That night it got really windy, oh my, I hate the wind. Mom put my Thunder Shirt on me. What a relief. The next day I was exhausted from the stress of all that wind. Mom said it was only 61 degrees so I got to keep my thunder shirt on and I dozed in front of my window all day.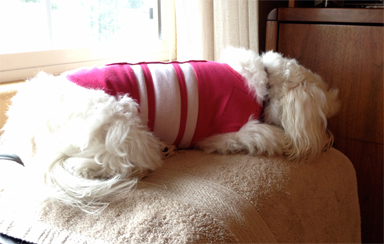 The Exhausted Adventurer,
Bella