A Simple Little Project Escalated
Last month I received an email from someone I had met at a networking event several years ago. The subject line read, "help me fix my boo boo?" Renee explained that she had hung several antique bows that had belonged to her husband's grandfather on a wall which had a faux finish. She had a party planned and thought a different look for the room was in order.
When she took the bows down and patched the nail holes she found she couldn't match the faux finish. What began as a simple project escalated into an area about seven feet wide and five feet tall. My experience has been that it is next to impossible to touch up a faux finish. The tinted, translucent paint for faux finishes becomes darker with each coat. Unless you can stay within the confines of the damaged area the adjoining edges appear darker. Renee reapplied the base coat to the area in hopes that she could blend in the faux finish. That so seldom happens. As I saw it she had three choices:
1.  Repaint the entire wall a solid color
2.  Paint a solid color and apply a new faux finish
3.  Have a mural designed to hide the "boo boo"
This couple was so fun to work with. When asked if they knew what they wanted. The wife looked her husband questioningly. He grinned and said, "Yes, but you won't like it." Hesitantly, she smiled and asked what his idea was. He replied, "Well, there's a bathroom on the other side. I'd like to see a window with a woman taking a showing." With a smile on her face she replied, "You're right, I don't like your idea." So he looks at me and asked, "What do you think?" Oh boy, had to think quickly. Said I, "That might be more appropriate in the bedroom." What a mischievous grin on that guys face.
Given the rural setting of their home I suggested a Colorado scene with 8-12 foot aspen trees flanking the area in question. The husband was a rock climber so I put a couple of climbers on the rocks. And to show you what a cool wife this guy has; she called one morning and asked if I could hide a nude in the mural. Something that wouldn't be noticed unless coaxed to look.
In one of the last conversations I had with Renee she mentioned that they like to name characters in paintings so I dropped her an email to find out what the names were. Here is her response: "RE names: with a nod to our childhood, Highlights magazine, the climbers names are Gufus and Gallant. The wood nymph is really an Indian maiden (who knew?) named Little Bare. The furry animal is Marvin the Marten, and the bumblebee's name is Dumbledore.
Oh, to live in a normal household…
I love the painting every day!
Renee"
See if you can spot the characters in this short video. (Sorry I didn't take a photo of the bee.)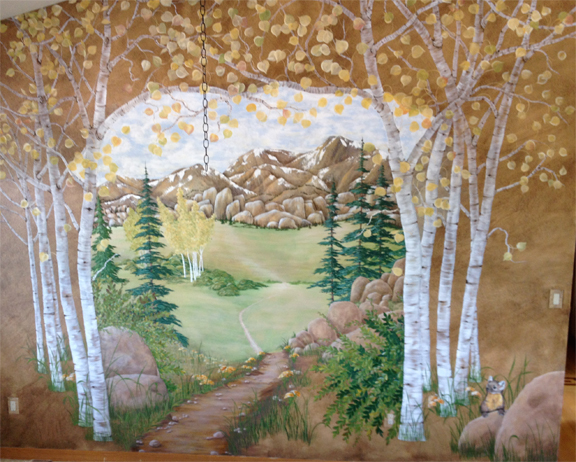 Got questions or comments? – I'd love to hear them!