Even more so than the warming temperatures the joy of Spring, for this artist, is the newness everywhere you look. Everything is fresh and vibrant. Each day there is amazing growth of trees and plants to behold.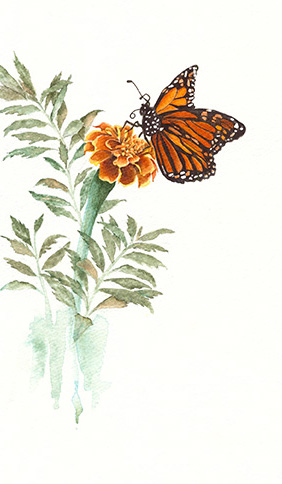 Creating a painting is not unlike a butterfly struggling to shed its cocoon, growing flowers, or growing our lives. The painting process begins by the painter making sure quality art supplies and thumbnail sketches are in order before the preparation of a next canvas.
As a gardener, you break up the soil and start anew. Then there is clearing out the dead leaves and roots of the winter. With a good disposition, a gardener must make sure the proper nutrients are mixed in the soil.
In representational art, the artist's painting won't have enough depth without properly preparing the background and planning for the next phase of the painting. Of course, there are exceptions.
I sometimes paint the focal point first but the progression of the painting depends on preparing each stage properly. You won't get beautiful blooms in life until you first do the work just right. The topsoil in your garden must be aerated and left loosely packed on the surface. The newly formed butterfly can't strengthen its wings without the painful struggle to break free of its cocoon. Without this battle, the butterfly dies without taking flight. When our gardens are balanced with care we can harvest beauty while living a life of grace and enjoy each stage of the process.
Art is a mirror that casts a reflection on our lives. Nurture all you've been given, cultivate your garden for sharing your beautiful gifts and plant your seeds for the future.
I've begun cultivating my next canvas . . .

View from the Cottage
The glorious Spring in Georgia comes earlier than any place I've lived. Just a week after the New Year began one of my neighbors picked a bouquet of Camellia from her back yard, a surprise birthday gift as well as a surprise to me that anything was blooming that time of year. Oh, the joy.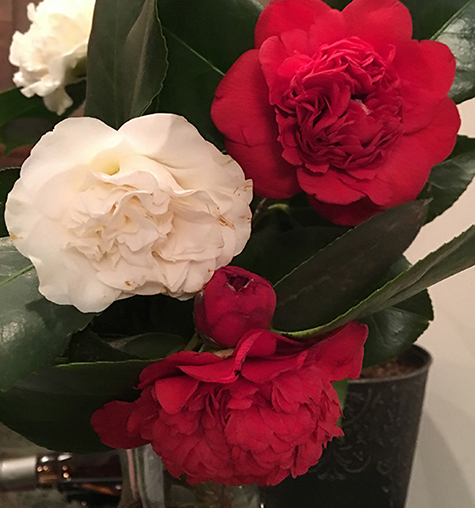 During the winter I watched squirrels dart along the leafless branches of tall oak trees with moss covered trunks. Oak trees in Georgia grow 45 – 65 feet tall, so straight they look as if they are reaching for the stars. But those cute little squirrels I enchantedly watched seem to like digging up my newly sprouted monkey grass and crocus. Right now I'm rethinking how cute I think they are.
The redbud and tulip trees began blooming early February this year, a bit earlier than usual. The Pear trees were fabulous and formed a canopy over many of the residential streets. As the blossoms waned it looked as though it was raining delicate white petals in a breeze.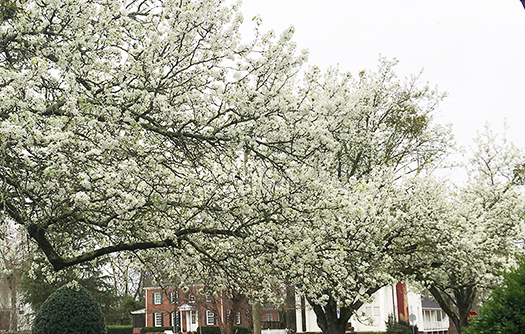 Now I'm ready for hummingbirds. I'll be moving the Spider plant to the screened porch and replacing it with a blooming plant to attract more hummingbirds. What do you think, will the windchime scare the hummingbirds?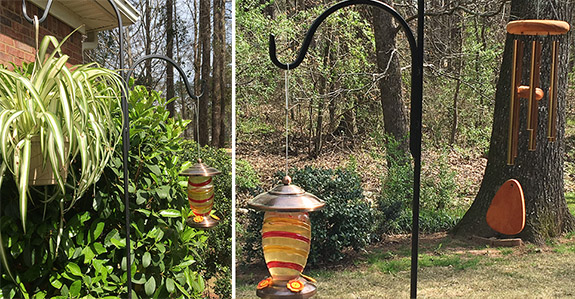 Gibbs Gardens
March was a month of growth on many levels. A friend that I met in Physical therapy a few years ago suggested a day trip to Gibbs Gardens in Ball Ground, Georgia. I knew I would be walking among millions of Spring flowers but I couldn't have dreamed of what the extent of one man's love of gardening could produce. The gardens are closed only a couple of months the year. Each season brings a different kind of beauty.
Sixty varieties of Daffodils covered the hills and valleys of Gibbs Gardens, over 20 million blooming between March 1st and April 15th. Several varieties of tulips standing over two feet tall were breath-taking. This was so worth the drive to take in the early Spring display.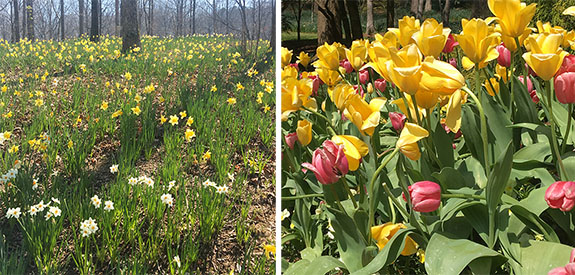 Jim Gibbs traveled for 15 years covering the nation and the world viewing gardens of every style and decided that he wanted to design and build a world-class garden. He spent six years looking for a suitable site with a strong source of water and beautiful mature trees covering a rolling topography. It was truly "a dream come true" when he found the most beautiful site in the nation to construct the garden. The property is 292 acres and the house and gardens include 220 acres, making it one of the nation's largest residential estate gardens.
I couldn't resist buying a season ticket to the Gardens. Mr. Gibbs has written a new book about the property and I can't stop thinking about it. On my return visit for the next season of walking among the flowers I plan to treat myself by taking more pics and purchasing the book.

https://www.gibbsgardens.com

Spring Fever

"It's spring fever. That is what the name of it is. And when you've got it, you want – oh, you don't quite know what it is you do want, but it just fairly makes your heart ache, you want it so."
–Mark Twain