Yes, I know I mentioned daffodils in my last newsletter. But many of my readers are in cooler climates and their spring flowers are still popping up. Few flowers remind me more of Spring than the daffodil. Below is a poem by William Wordsworth, the first of four stanzas, along with a birthday card I designed. Enjoy: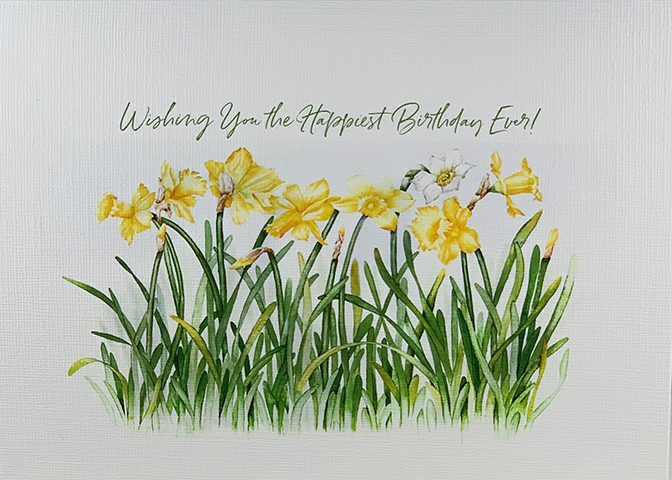 Daffodils
I wandered lonely
As a cloud
That floats on high
O'er vales and hills.
When all at once
I saw a crowd.
A host of golden daffodils;
Beside the lake,
Beneath the trees,
Fluttering and dancing
In the breeze.
—William Wordsworth.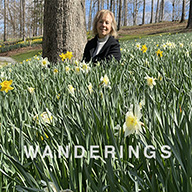 It was the first week of March and year two at Gibb's Gardens. The branches of most trees were naked but showing signs of budding. One towering tulip tree with its branches draped over the trail held a profusion of blossoms with the azure sky peeking through the suspended bouquet.
We were two weeks earlier than last year. It made a difference in the numbers and varieties of fleeting blooms. The hillsides were a myriad of green hues weeks before. Spring had sprinkled the meadows with yellow, cream, and white daffodils. In shaded areas, their golden heads stared at the ground. Those who enjoyed the rays of the sun stretched their faces upward to kiss the sky. I discovered my favorite variety.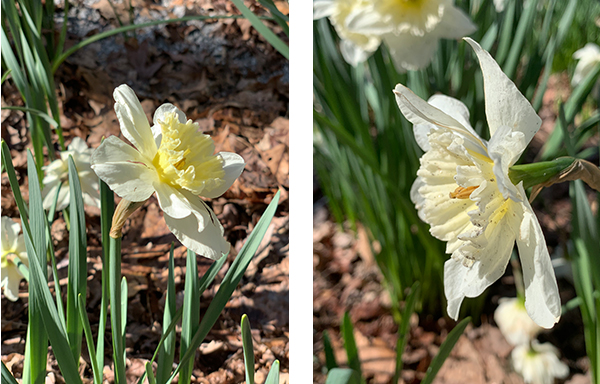 Throughout the trails of Gibb's Gardens, guests delight in custom-designed sculptures. Jim Gibb's garden dream included creating a Grandchildren's Sculpture Garden.

The beauty of such grand gardens sobers me and my wandering mind. I can think of no better way to appreciate the moment at hand than to be in a field of flowers.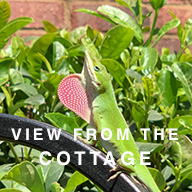 We are having glimpses of summer in Georgia and it is a glorious time to be out of doors. The areas I cleared at the forest's edge offered up delightful surprises this year. Wild strawberries produced a few small berries and violets with heart-shaped leaves and asymmetrical blooms had previously been hidden in the underbrush of the woods. Red raspberry bushes displayed luscious blossoms but only the tiniest of berries showed themselves.

Poison ivy and poison oak have overtaken several 50-60′ tall trees in the woods behind the cottage. Vines cling to the trunks and branches. I cannot tell you how often in my lifetime I have had poison ivy and poison oak, suffice it to say – a lot. One morning as I was weeding and it hit me . . .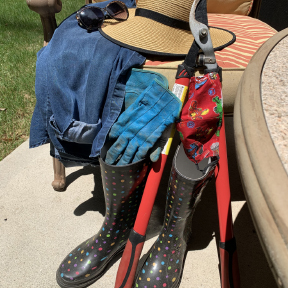 an idea for ridding a couple of trees of the pesky poisonous vines.
Jeans, a long-sleeved shirt, a mask, sunglasses, hat, leather gardening gloves, and my tall polka-dot boots were necessities. I was on a mission. I grabbed my tree trimmers and back to the woods I went. It didn't take long. I cut the half-inch diameter vines at ground level around two trees and headed back to the cottage for another shower.
Researching is part of the fun I find in my work and caring for my yard. Did you know that birds and squirrels feed on the berries of those poisonous vines – without side-effects? Not to worry, there are plenty of ivy-covered trees in the woods for them to feast on next winter.
Happily, the lily-of-the-valley I planted last year graced me with delicate petite blossoms. Oh, joy! Bringing those itty-bitty beauties indoors made me feel more grounded and peaceful. They were so small they fit in a shot glass. Sometimes it just doesn't take much to improve my day.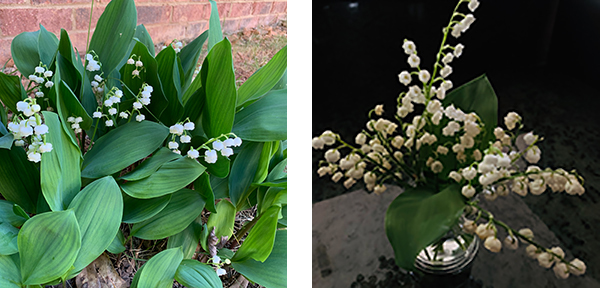 Did you ever wish you could have more time at home? I know I've been guilty of that. In the past few months, I've learned to be more descriptive of my wishes. (Preferably more time of my choosing, to be at home.) During this collective timeout, I hope you and your family are safe and well.
Thank you for allowing me to share my art, my thoughts, and my creative life from the cottage. Wishing you kindness, humility, and compassion.
A little note:
Crystal Organic Farm
I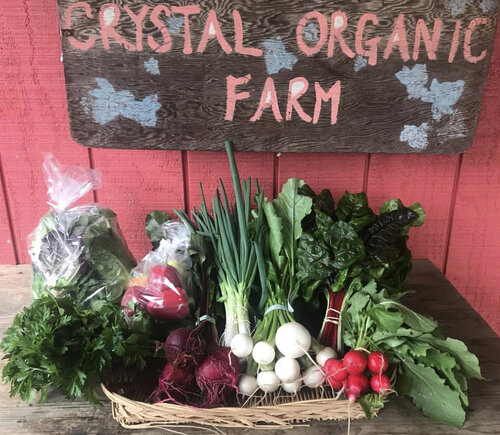 recently found a Georgia treasure. Crystal Organic Farm, located in Newborn, Georgia. A lovely thirteen-mile drive through the countryside from Covington. It is one hundred and seventy-five acres of USDA certified organic land. The farm is one of the oldest certified organic farms in the Southeast.
During the pandemic the restaurants they serviced closed. As a way of compensating they increased their farm box program. The farm is located at 425 N Johnston St, Newborn, GA 30056.
It's easy to order and pay online or they accept cash or checks. After ordering online you'll receive an email receipt with a pickup date of your choice. I usually pick up on Friday afternoon. If you live in Corrydell I am happy to pick up your order and deliver it to you, my # (719-260-1440). To place your order, go to https://www.crystalorganicfarm.com
I am in no way compensated for mentioning Crystal Organic Farm. I'm thrilled with the freshness and variety of produce and eggs. Of course, the availability of fresh produce is only that which is in season at the time of your order.