Greetings from luscious, flowering, humid Georgia. Bella and I made the trek from Colorado to Georgia and what an adventure it has been. There are many things to love about Georgia (besides my younger son and grandsons). There is an impressive display of flowers and flowering trees nearly year round. The architecture is like something out of Gone with the Wind and in February the tulip trees are magnificent. Actually, I've read that Gone with the Wind was inspired by the architecture in this area. Movies and TV series are currently filmed here.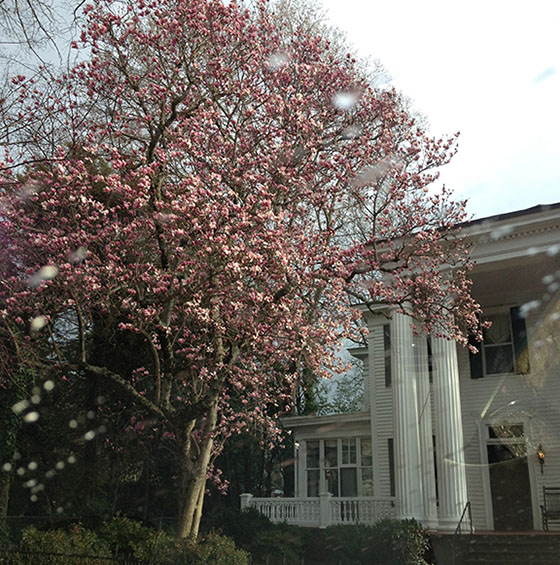 Journey to a New Studio
Gratitude and joy consumed me as I reminisced of nearly thirty years of friendships, personal growth, and life changes in Colorado. The entire time I was packing I never doubted I was being guided in this direction.
From previous moves, I learned that a sense of lightness and clarity follow each downsizing. And so . . . a simpler life and a simpler look for my newsletter. Soon a simpler website and a simpler blog.
The final preparations were complete. The next day I would begin working in my Georgia studio but first, a couple things were needed from the "Toy Store," you might call it the Art Store.
As I got in my car a smile crossed my face remembering how much time and loving energy I put into my little studio space. As I passed in front of a small white car waiting at the red light I saw another car that had been hidden from view. It wasn't slowing, no time to get out of the way. I grabbed the steering wheel in hope that I would protect my back, no time for thought as to what might happen to other parts of my body during impact.
After surgery for a three-quarter tear in my rotator cuff and a severed bicep on my dominant shoulder there was six months of physical therapy. Now I sit in my studio, happy to be here. Countless times over the last several months I stopped in. Sometimes just sitting and staring, sometimes I made supply lists or splashed paint onto watercolor paper with my nondominant hand uncertain what I might do with them.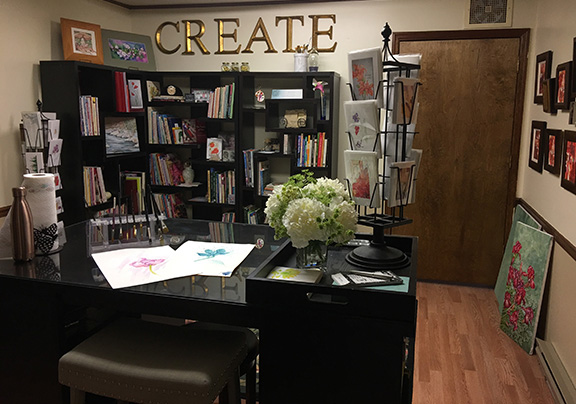 As difficult as it can be I believe it behooves us to find the gifts, you know, the good things that might not have happened otherwise or things that were put in place to help us through tough times ahead.
What if . . .
While surfing the internet a few months before the accident, I came across a fun little art technique called Zentangle. As I watched the testimonial videos one convinced me there was much more to it than drawing. Off I went to Rhode Island to become a certified teacher. Over 100 students from around the world were in attendance. And I thought it was going to be a little workshop where I would learn to help others work with issues around creativity.
After the accident, I awakened the following morning with the words "The Tangled Spade" in my head. Without hesitation I added a board with that name to my Pinterest account.
My recovery was helped in many ways by knowing this simple technique. It was a way of being creative with a much appreciated benefit – while focusing on drawing there was a reprieve from pain.
At physical therapy, I met a gal who had had back surgery. She was learning how to walk again and was still in pain so I told her about Zentangle and asked if you would be interested in trying it. She claimed she wasn't an artist but agreed to try. Our first session ran way past the hour I had allotted, when we finished she was amazed at how well she did, when asked what her pain level was she said, "Oh, I haven't even thought about it but I don't have any right now."
Today was our third session. While putting things away she said, "I had no pain the entire time we were drawing." Perhaps this is the reason I took the Zentangle certification.
If you have no idea what Zentangle is, here's a peek. The top left photo (below) is my "Tangled Spade." The others are some of my first tangles. Let me know what you think — leave a comment below!

Not yet able to paint with the detail I once did, I'm trying a different-to-me style of watercolor. There are only a couple finished but several in my mind's eye. If I come close to my vision I'll be sharing soon.
Questions? Talk to me I'd love to hear from you. Leave a comment below!
Wishing you beauty everywhere you look,
Mickey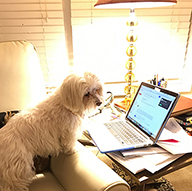 PS: Well, just look who seems to be contemplating another article. Watch out world, you know there is no holding her back and she's been through a lot since our move. We'll see you next month!