My intention was to paint three small paintings to enter the competition. On the day that a friend and I planned to enter our pieces, my three companion paintings sat unfinished on my table. I had to tell my friend I was looking forward to going but I wouldn't be entering anything in the competition. She responded with, "Don't you have any original framed art that you could enter?"
It so happened I had one framed original watercolor hanging in my kitchen. The painting was never entered in a show so it qualified. Thanks to my friend's suggestion I received second place for my "Sweet Pears in Crystal."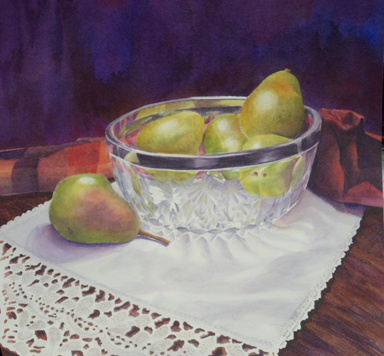 My First Juried Art Show
 Another source of inspiration for a painting is a poem. The theme for the show was to create a piece that was inspired by a poem written by one of six Georgian poets. The poem I chose was "Fire Eater" by Clela Reed. Clela wrote the poem while in the Peace Corps in Romania. Her words painted pictures in my mind. In the first mental image, I could feel her sadness, a cold dreary day, and how much she was missing home. In the second picture, she described a path she would walk upon returning home.
Fire Eater
Poem by Clela Reed
Hollowed out from winter,
steeped in gray and grayer,
I'm hungry for the sun.
I would be an eater of the flames,
tilt my face toward the sky,
lift a long, long handled spoon
and scoop the orange and yellow
into bites of light I'd swallow
until I began to shine!
Then all would know
what I've been dipping into.
I'd trail behind me
comet trails of summer glow,
and even walking in the snow'
marigolds and buttercups
would blossom in my path.
And I would feast with such delight,
quick in famished greed
that scattered light-crumbs
from my mouth would feed
the pecking weary birds
and lift them into spring.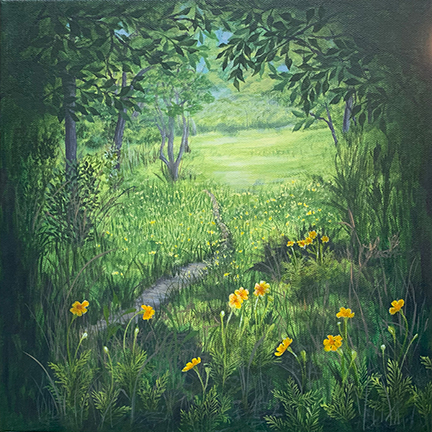 I am happy to say the original painting found a new home. Giclees are available in your choice of size.

Where do You Find Inspiration for Your Paintings?
Part 3

The last of my three favorite commercial projects was painted at The Wigwam Resort in Phoenix, Arizona. This project would be a departure from the type of floral subjects done in Part 1 and Part 2.
While working in my studio in Colorado I receive a phone call from Tag Galyean, an architect/designer based in Virginia. He asks if I was interested in painting a resort in Arizona. How can I say no to that?
The first area is the original wood plank floor in the lobby.  American Indian motifs from tribes of that geographic locale seem appropriate. The area is over 20 feet wide and will require a repeat pattern. I decided
to design and cut stencils for the motifs to expedite the painting process.



It's early morning the day before I begin the second phase of the project. The urge to take a drive through the desert is beckoning. The  glowing sun is rising above the horizon. To my delight, the desert has many plants in bloom and it's a sight to behold.
As I drive, the ideas for the historic fireplace begin to fill my mind. The fireplace was also in the lobby. An eleven-foot wide adobe fireplace painted a rich earthy mocha brown. The five-foot-wide arched opening seems to be calling for  flowering cactus with a few desert critters as elements of surprise.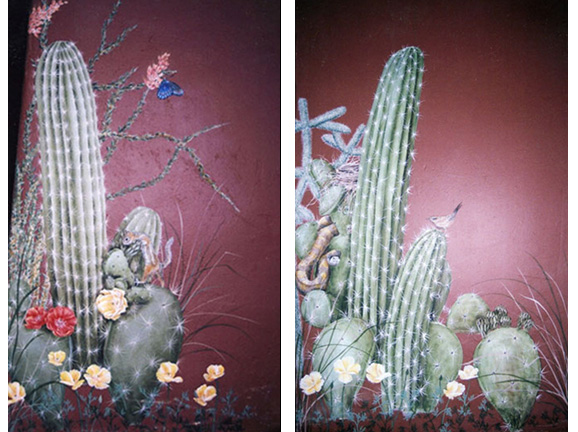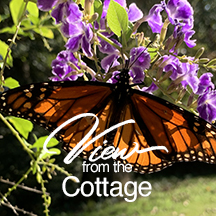 It seems I am not missing the extraordinary moments  after being home many more hours than at any time in my life. For now, I prefer the gentle hums of beauty that are so plentiful in nature. The dreams that are already in my days, and my heart exist in every moment … when I pay attention.
Adding to my dream of creating another cutting bed will hopefully be coming to fruition soon. Forty bulbs and eight rhizomes are planted. Three white Knockout Rose bushes flank the end of the screened porch. I anticipate the rewards being subtly life-changing as I soon pick a bouquet of homegrown flowers and snip herbs from pots for home cooked meals.
Paying attention to plants as they grow emphasizes the passing of seasons, the weather, and the idiosyncrasies of nature. A few annuals and some bearded iris rhizomes occupy space around a moss-covered stump left behind after a sixty-foot-tall tree needed to be removed. We never know when Mother Nature will throw us a curve. I had a good tussle with her after a hail storm last June. She commands a lot of respect and I know I will never control her.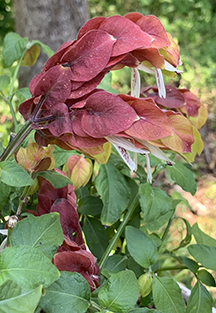 This little treasure was placed in a large pot on top of the moss-covered stump. The only description on the tag was Shrimp Plant, something I had never encountered while scouring nurseries.
Framed art has occupied my time for nearly a year now. The creative process itself is a time of wonder. Not knowing for sure what the finished piece will end up being is in
itself an encouragement to finish.
As mentioned in my last newsletter, I have begun a mural in my master bedroom. Being busy with framed art I haven't felt a rush to finish it until the first signs of Spring
appeared. The idea of my bed in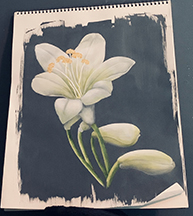 the center of the room no longer makes me giggle at the disarray. I am wanting my space back.
This painting on my sketch pad is one of many tiny blooms on top of a stem of an agapanthus. Below are photos of my forever flowers in progress. The photos that I took of my little garden in bloom last year were the inspiration for the mural.