Autumn comes with regal ease in Georgia, content to arrive with slow grace. It is the end of November, we still have 70+ degree days. My neighbor, Margaret, has a beautifully shaped Maple tree and this year its radiant splendor did not disappoint. The leaves have changed from green to an incredible display of vibrant colors – vermillion to ruby red.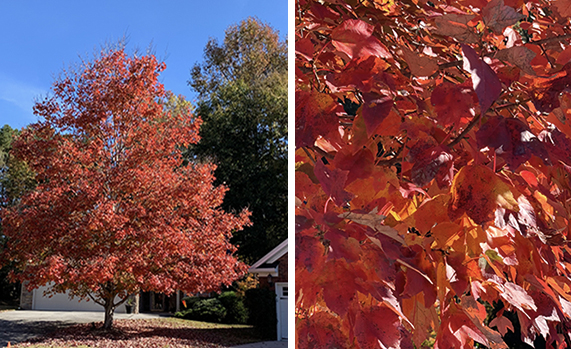 In the stillness of 2020 nature became a comfort for many – I hope this doesn't change. I relish the opportunities to do, seemingly, nothing. It is in these moments that you can stretch and exercise your imagination. And isn't it wonderful that you don't have to be good at everything, that gives others a chance to share their gifts and talents with us?
Colorado Mural Projects

Jan's project consists of an array of differently shaped leaves cascading from the crown molding. The color pallet consists of several hues of green and is accented with subtle translucent ochre, blue, and purple. The design undulates throughout the foyer, a portion of an adjoining hall, and into the kitchen.

 
Tracie's pot of flowers on her mantle was painted to suit her decor several years ago. After a remodel she wanted to freshen the look. White tulips tipped with warm burnt orange added that freshness. The clay pot
holding her flowers looks as though the design is embossed. The pot is over four feet long. The flowers reach nearly three feet tall.


Donni's Master Bath was in need of repainting but she didn't want to give up her flowers. I suggested painting the background within two inches of the blossoms and painting over the leaves and stems. It is much faster to repaint the leaves and stems than to paint around them.

Painting with Balance & Harmony

One of the toughest parts of painting is knowing when it's finished. Many times it's still hard for me to walk away. This quote attributed to Michael Angelo I find apropos to creatives, "I'm still learning." As I tell my grandsons, "When you stop learning, you start dying."
A few tips you may find helpful for your next painting:
 Look for colors (light, medium, and dark)

 Shapes (small, medium, and large)

Create the all-important focal point which is seldom located in the center of a painting.

As you're working rotate your painting to all four sides, look for a balance.

 Place your artwork so you can stand back and study the reflection in a mirror. A different perspective helps you find balance whether that be symmetrical or asymmetrical balance.

Creating that balance gives the viewer the opportunity to visually walk through your painting. The eye needs to be drawn into a painting, it needs to play while there, and it needs a way out. When your eye is comfortable with this you may be finished.

 Walk away for a few days or longer. When you return you may find you are quite satisfied with your painting.

 One thing to remember after all of that, rules can be broken and the art can still be great. How confusing is that?!?
View from the Cottage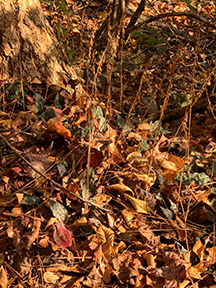 As I walk through the yard, leaves seem to be magically twirling as if dancing to the ground. I love the artful way of their curling. With each step, I hear the crunch of fallen leaves under my feet. Another fleeting season will soon pass.
A relaxing find only 15 minutes from my home . . . The waters of the Factory Shoals River rush over and around a multitude of rock formations. The sound of the water cascading over the rocks is soothing. It's sunrise I wait for the sun to touch the outer leaves on the shadowed trees along the east side of the river bank. Oh, how patient one has to be for the sun to accent those leaves. I could have slept in! But . . . I would have missed the wonders of waiting.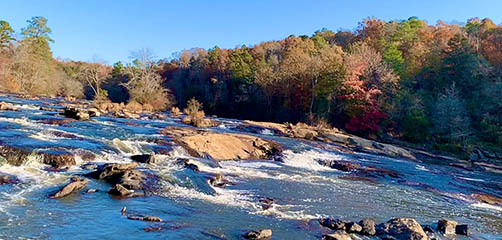 As I climb the path to the picnic area I notice someone must have had a magical spell of inspiration as they were leaving the park. The treasure was left on one of the picnic tables. How creative is this?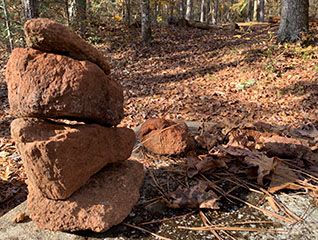 Here's a little tidbit for you: Science explains why we feel more relaxed by looking at water on a biological level. Seeing or hearing the soothing sounds of moving water triggers a response in our brains that induces a flood of neurochemicals. These chemicals increase blood flow to the brain and heart, which induces relaxation. There, your day is not wasted – you learned something.